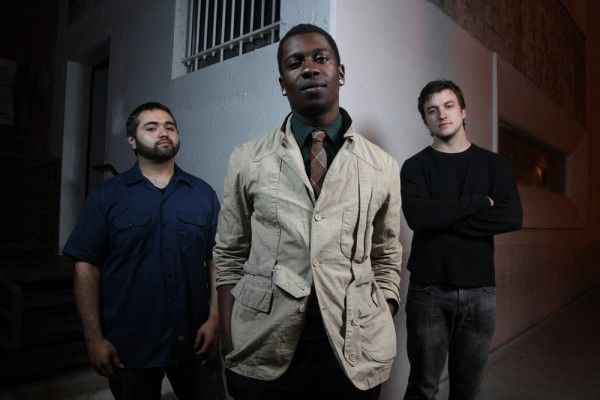 Di, 1. Mai 2012
ANIMALS AS LEADERS
With the Washington, D.C.-based Reflux, 7-string guitarist Tosin Abasi caught the attention of discerning fans with fierce riffs and fleet-fingered solos that sharpened the edge of the band's politically-minded progressive metalcore. Although the band's moment in the spotlight was brief, they built a dedicated cult following via extensive touring with the likes of Strapping Young Lad, Darkest Hour, August Burns Red, Animosity, From A Second Story Window and many more.
Soon after Reflux disbanded, Abasi began work on an instrumental solo project as a way to further express his musical personality. The resulting self-titled debut from Abasi's new band ANIMALS AS LEADERS, a 12-track collection of guitar-driven progressive instrumentals with ambient and electronic influences, is a scintillating showcase for one of the finest young guitarists in rock today.
"I definitely wanted to make an album that was 'guitar-centric,' but also interesting from other perspectives," Abasi explains. He succeeded, as his dazzling performances on both 7- and 8-string guitars are flashy and technical, yet also tasteful and melodic. And even though they contain no words, the album's songs speak volumes – something that's evident from the opening notes of album kickoff "Tempting Time."
"'Tempting Time' loosely deals with some of the time-based societal pressures that come with getting older," Abasi says. "It's about reconciling your place in your life with where society feels like you should be, and understanding the finite amount of time you have in life to do anything."
Although Abasi wrote all the music on the album and played bass in addition to all guitars, he emphasizes that ANIMALS AS LEADERS is very much a band, which includes second guitarist Javier Reyes and former Animosity drummer, Navene Koperweis. Since the end of 2010, the band has logged time on the road with Between the Buried and Me, Dillinger Escape Plan, Circa Survive, Thursday and Underoath.
The band has been turning heads all over the musical world. MetalSucks called the debut, "intricate instru-metal of the highest caliber,"which received a 10/10 from PerfectProg.com and a 9.7/10 from Ultimate-Guitar.com. Legendary guitarist Steve Vai recently commented on Abasi and ANIMALS AS LEADERS:
"When I first heard Animals As Leaders, I felt as though at last, I was hearing the future of creative, heavy virtuoso guitar playing. It's quite amazing."
As for the band's moniker, Abasi says it relates to looking at the world from an animal's perspective, and that it was inspired in part by the book Ishmael, in which the author uses a telepathic gorilla to critique human culture. "A lot of what we do is completely removed from the fact that we're all essentially animals," Abasi told the Washington City Paper. "We have a niche on the planet and we have a role in sustainable sort of ecology, but we've gone against our natural calling. The name is acknowledging that we do have more of a natural role on the planet, but it's also like, who would follow an animal to do anything? I think of the name as being both nonsensical and really literal."
Partner & Sponsoren
Skalar Entertainment

Volume

Ö-Ticket

Musicticket

Bank Austria