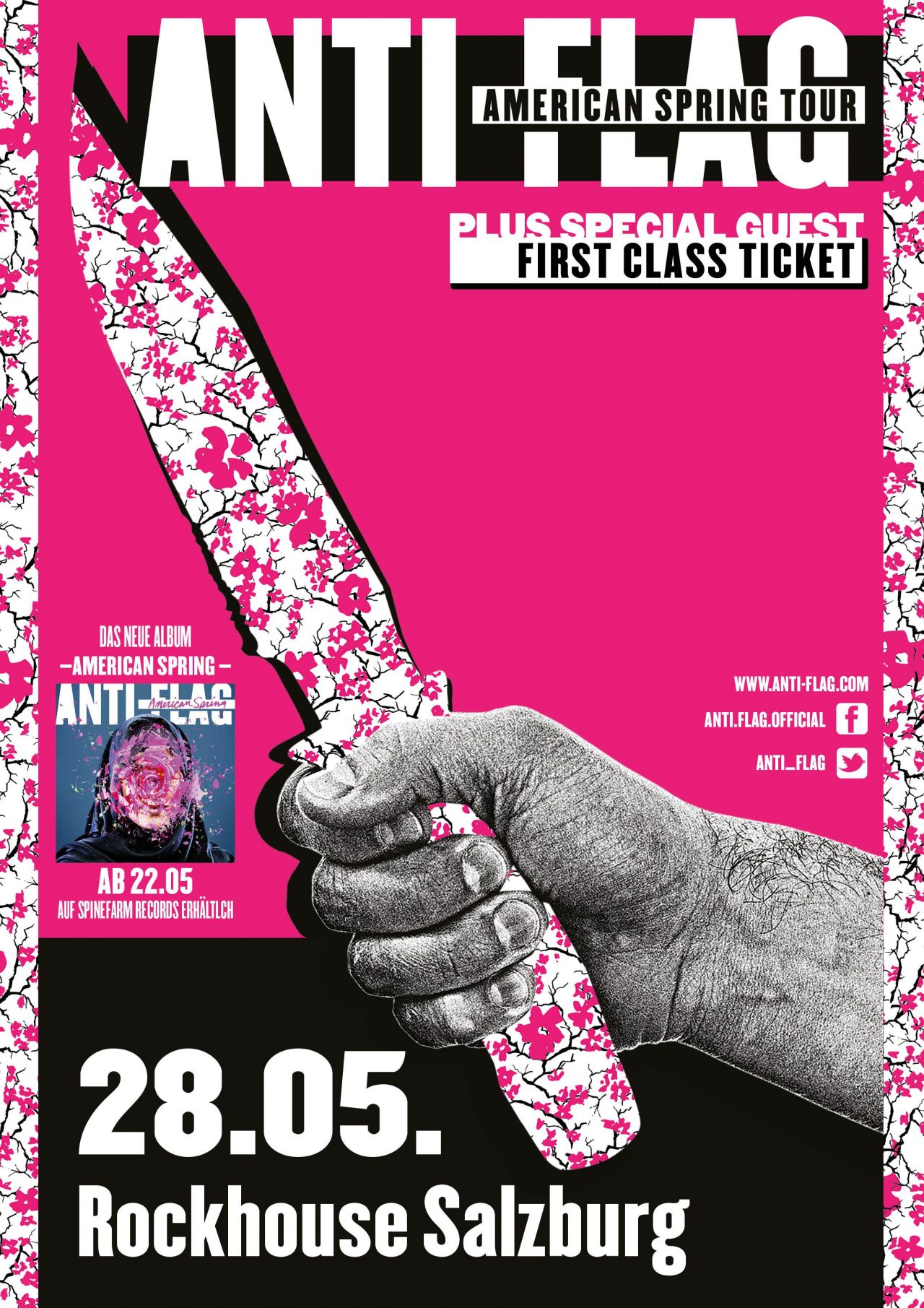 Do, 28. Mai 2015
ANTI FLAG
Spinefarm is thrilled to announce the signing of Pittsburgh's incendiary punk rock iconoclasts Anti-Flag, who have served as a constant voice of and agent for change by advocating peace and human rights through their tireless work with and support of organizations like Amnesty International, ACLU, Greenpeace, Planned Parenthood, Rainforest Action Network, PETA and more. Spinefarm welcomes the band to its worldwide roster.
The band, which never has and never will shy away from issuing inflammatory, political statements encased in a fast, furious, and unforgettable musical package, will release American Spring, its Spinefarm debut and its tenth album overall, this May. The band last released an album in 2012 in the form of The General Strike.
American Spring, produced by AWOLNATION's Kenny Carkeet, Jim Kaufman (Funeral for a Friend, Skindred, Helmet) and Anti-Flag, features a cameo from fellow punk legend Tim Armstrong of Rancid who appears on the song "Brandenburg Gate," while Rage Against the Machine guitarist Tom Morello is featured on "Without End."
While Anti-Flag spent 2014 hitting stages at major international festivals such as Coachella (U.S.), Sonisphere (UK), Pukkelpop (Belgium), and Glastonbury (UK), 2015 will find the band as in your face as ever… as if anything less was possible.
Given the state of the world in 2015, it's perfect timing for a new Anti-Flag record, which is full of fist-in-the-air, singalong anthems that represent the band's unique world view and which also serve as informed calls to action.
Full release details, such as the track listing and exact release date are forthcoming, but the band had issued this statement—or perhaps it's more of a warning to the asleep-at-the-wheel masses—regarding the upcoming record.
"We are excited to announce that our tenth full-length record will be released on Spinefarm Records this spring," the band stated. "There is no shortage of fodder for a new record of commentary on the social and political climate in 2015: Endless wars, the new Jim Crow and American injustice, corprotocracy, environmental coup d'état, the surveillance state, loss, grief, and anxiety. We hope that these songs can grant us solace in a seemingly hopeless era."
The band continued, "It has been frustrating to see much punk rock music —and music in general— quiet in the face of so many atrocities that are taking place around the world. This record is not quiet. If you are disillusioned with the status quo, these songs are for you. The American Spring is now."
Spinefarm Records General Manager Jonas Nachsin said, "Anti-Flag are a band with a message certainly, and in addition, the music is just as compelling. This album, our first with the band, is just incredible. While we are happy to help deliver it to their legion of devoted fans, our plan is also to extend it out to those who haven't yet been exposed to this treasured act. We are proud that they chose us to bring on American Spring."
Don't go quiet… Anti-Flag and American Spring won't let you lapse into complacency or let you give up. If ever there were a soundtrack for an uprising, it's American Spring.