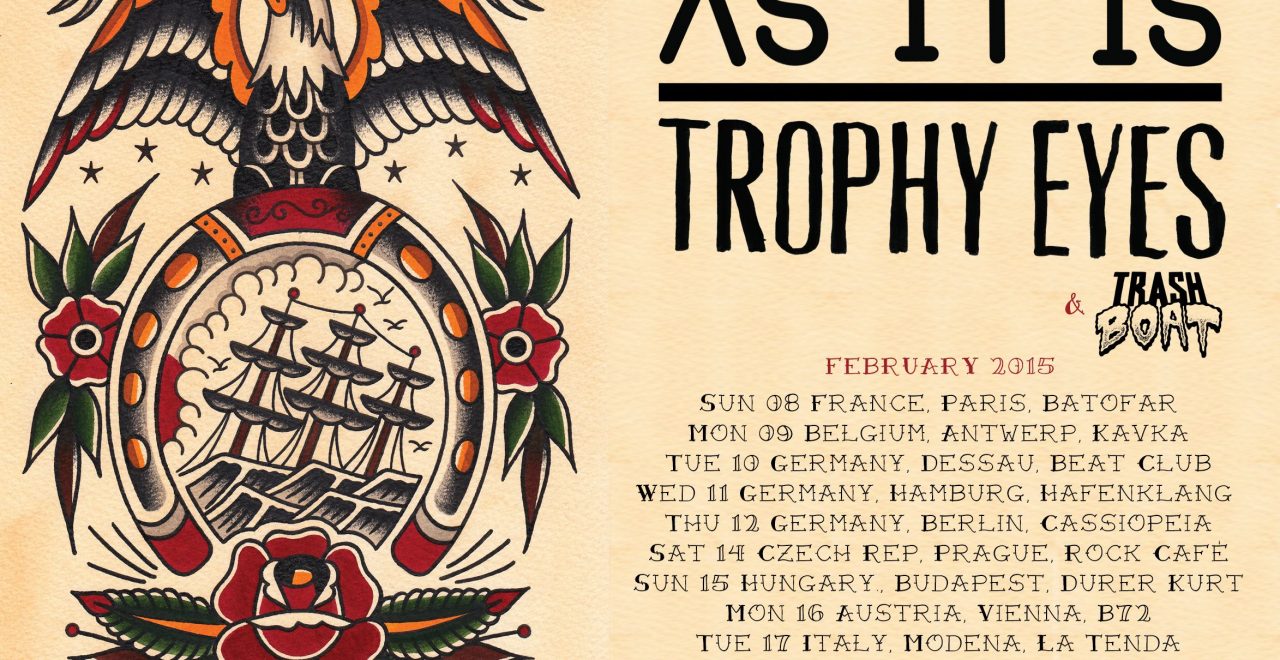 Mo, 16. Feb 2015
AS IT IS / TROPHY EYES
As It Is
The transatlantic pop-punk quintet hails from Brighton, UK consisting of Patty Walters (vocals), Benjamin Biss (vocals, guitar), Andy Westhead (guitar), Patrick Foley (drums), Alistair Testo (bass). The band has established a devout fan following with their heart-on-sleeve, honest and relatable lyrics, charged with pop-rock melodies. Managed by KMGMT (home of other Fearless acts such as Tonight Alive and The Summer Set), As It Is has molded their craft, steadily building their reputation as one of UK's brightest new names.
"I haven't found a way yet of wording how surreal and wonderful it feels, signing to one of my favorite record labels. Fearless and their artists have played a huge role in my life, inspiring me massively, giving me something to aspire to reach," states lead singer Patty Walters. "To be able to say something as immense as 'My band was the first UK band that ever signed to Fearless Records,' is mind-blowing to me."
Guitarist and vocalist Benjamin Biss adds, "One of the things I've always loved about Fearless is that they have a relatively small roster but I know every single one of those bands. Chances like this don't come around too often, especially for UK bands in a genre that is mainly dominated by American acts; so we want to help prove that the UK can hold their own in the scene."
Next week, the band will go into the studio with producer James Paul Wisner (Paramore, Dashboard Confessional) to record their Fearless debut, to release in 2015. The new album will follow their latest release This Mind Of Mine, which was funded completely through their loyal fanbase.
Trophy Eyes
After releasing the debut EP 'Everything Goes Away' In late 2013, Trophy Eyes have toured relentlessly and were picked up by Hopeless Records shortly after. Trophy Eyes were given the opportunity to play their biggest show yet at Soundwave 2014 thanks to the Triple J Unearthed Competition. The band now released their debut album through Hopeless Records in October 2014.