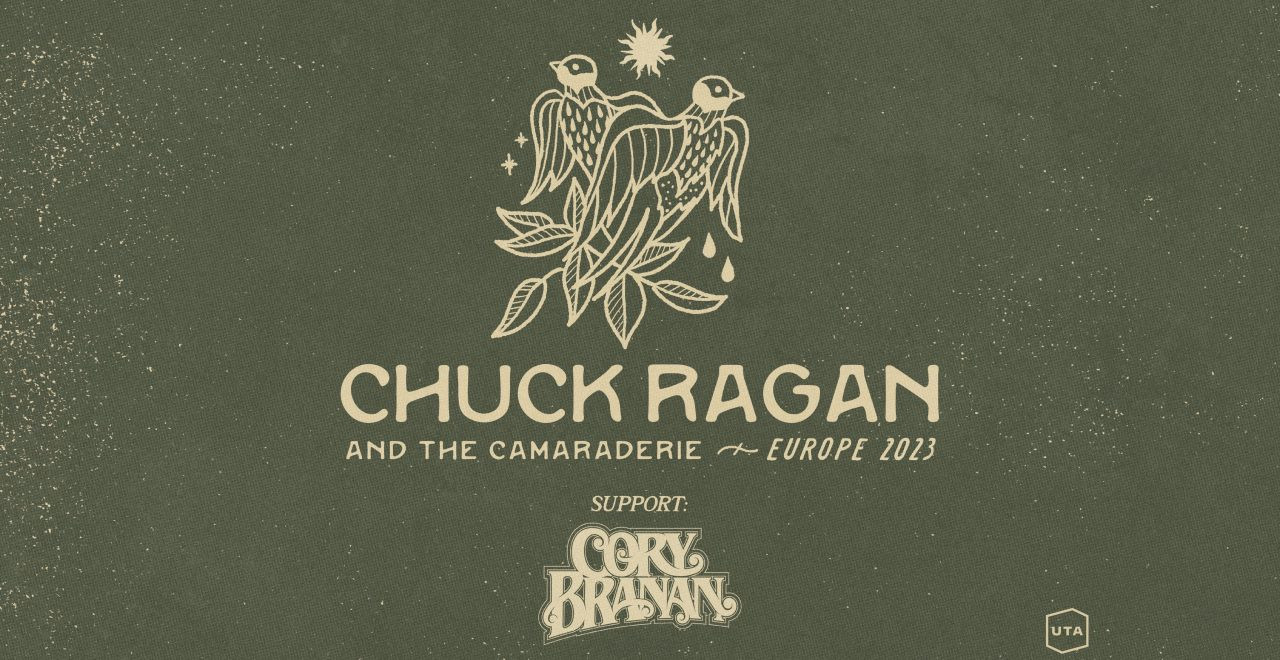 So, 10. Dez 2023
Chuck Ragan
Chuck Ragan's bracing new release Till Midnight once again confirms what the iconoclastic singer-songwriter's fans have known all along: that he's a deeply compelling songwriter and an effortlessly charismatic performer, as well as a true believer in music's ability to illuminate and inspire.
Till Midnight's ten typically impassioned new Ragan compositions embody the artist's trademark mix of eloquent lyrical insight and catchy, forceful songcraft. The album's formidable blend of head and heart is reflected on such new tunes as "Something May Catch Fire," "Vagabond," "Non Typical," "Bedroll Lullaby" and "Wake With You," on which Ragan applies his distinctively raspy voice and sharp melodic sensibility to vividly expressive tunes that reflect both his early grounding in traditional American music and his deep affinity for rock n' roll.
"There's a lot of love songs on this one," notes Ragan, whose work has always shown a knack for addressing individual concerns as well as societal ones. "I love to write love songs because it's the most powerful emotion. It's what grounds us to this Earth and makes us want to fight to make the world a better place.
"I always just try to write from the heart and make the music as genuine as I possibly can," he continues. "By doing that, I'm usually writing about whatever's going on in my life. And when you're living your life by wearing your heart on your sleeve, there's not a lot to hide behind."
In a musical life that spans close to three decades, Chuck Ragan has consistently worn his heart on his sleeve, and carved out a musical niche in the process. First with post-hardcore trailblazers Hot Water Music and subsequently on his own, he's built a large and singularly powerful body of work whose honesty, immediacy and warmth have won the loyalty of a fiercely devoted international fan base that's supported him through his various musical incarnations.
Till Midnight benefits from sensitive production by multi-instrumentalist and Blind Melon/AWOL Nation member Christopher Thorn, and backup by Ragan's longstanding combo the Camaraderie—guitarist/pedal steel player Todd Beene, fiddler Jon Gaunt and bassist Joe Ginsberg, plus new drummer David Hidalgo Jr., of Social Distortion and formerly of Suicidal Tendencies, and son of Los Lobos' David Hidalgo—along with Rami Jaffee of Wallflowers/Foo Fighters fame, Ben Nichols of Lucero, Dave Hause, Jenny O., Chad Price and Jon Snodgrass of Drag the River.
To give Till Midnight an appropriately organic, lived-in feel, Ragan gathered the musicians at his home in Northern California for a week of rehearsal, fishing and preproduction, before road-testing the new material in Europe.
"It was really the first time we all learned and rehearsed the songs as a group and laid everything down together," Ragan explains. "It made a huge difference for everybody to have time to sit and breathe with these songs and let everything develop naturally. There was a feeling that I set out to capture and the guys there were able to help us capture it."
Although its birth cycle may have been different, the honesty and urgency that distinguish Till Midnight have been constants in the musical journey that began in Ragan's early years. After playing in numerous bands in the late '80s and early '90s, Ragan teamed with Chris Wollard, Jason Black and George Rebelo, with whom he relocated from Sarasota, FL to Gainesville and formed Hot Water Music. That band quickly emerged as one of the American punk scene's most distinctive and inventive units, winning a reputation as a riveting live act while releasing such well-received studio albums as Fuel for the Hate Game, Forever and Counting, No Division, A Flight and A Crash, Caution and The New What Next, as well as the live discs Live at the Hardback and Live in Chicago and the compilations Finding the Rhythms, Never Ender and Till the Wheels Fall Off.
Feeling the urge to stretch out creatively, Ragan ventured into a more acoustic approach with the side project Rumbleseat, which released several singles and the album Rumbleseat Is Dead. After Hot Water Music disbanded in 2005, Ragan enthusiastically embraced his new status as solo troubadour, exploring an expanded palette of acoustic and electric textures on the acclaimed albums Feast or Famine, Gold Country and Covering Ground, as well as the stripped-down live set Los Feliz and a series of limited-edition subscription singles released in 2006 and 2007, and later compiled on CD as The Blueprint Sessions.
In 2008, Ragan launched the long-running Revival Tour, a series of collaborative acoustic adventures featuring a diverse assortment of punk, bluegrass and alt-country performers. In addition to Ragan, the Revival Tour, which has visited Britain, Europe, Australia and Scandinavia as well as North America, has featured a broad array of talents, including Anderson Family Bluegrass, Rise Against frontman Tim McIlrath, Craig Finn of the Hold Steady, Cory Branan, Ben Kweller, Laura Jane Grace, Jay Malinowski of Bedouin Soundclash, Tim Barry, Austin Lucas, Matt Pryor of the Get Up Kids, Jesse Malin, Chris Carrabba, Chris McCaughan, Lucero's Ben Nichols, Dave Hause, Flogging Molly's Matt Hensley and Nathan Maxwell, Joey Cape, Brian Fallon of the Gaslight Anthem, Audra Mae, Emily Barker, Dan Andriano of the Alkaline Trio, along with Jenny O, Kevin Seconds, Frank Turner, Rocky Votolato, Jon Snodgrass, Chad Price and Jenny Owen Youngs.
In 2012—the same year that Ragan reunited with Hot Water Music to record their album Exister—the veteran road warrior released his first book, The Road Most Traveled, a collection of insights and anecdotes on the touring life that serves as both a personal memoir and a helpful how-to handbook. He is currently working on a second volume.
As his book makes clear, and as Till Midnight confirms, Ragan takes his musical mission seriously, drawing inspiration and emotional sustenance from the songwriters and music he surrounds himself with, his family and friends along with the close and loyal relationship with his audience.
"The way I see it," Ragan observes, "we're faced with tons of inspiration every day. Every step of this life has a way of teaching you something, showing you something, opening your ears and your heart to something. I have all these friends out there, and this community that supports me, who believe in what I'm doing and who believe in the power of music and the power of community.
"It's a blessing and a privilege to stand on stage and play music for people," he continues. "I meet so many folks out there, and they're so hospitable and so kind and say such nice things to me about the songs. The support and the energy that I get from them is what makes it possible for me to keep doing this. And when I'm there and in that moment, it's important to me to give it back to them as strongly as they're giving it to me."