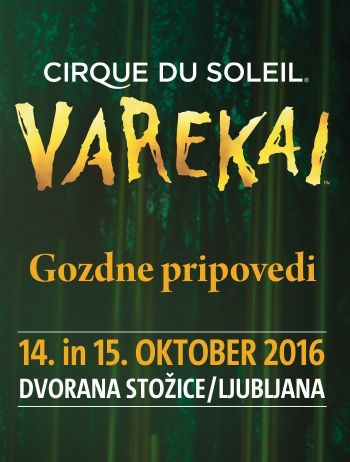 So, 4. Jun 2017
CIRQUE DU SOLEIL
Ljubljana, Thursday, August 25 – We are proud to present the first Cirque du Soleil show ever in Slovenia! The greatest artistic entertainment group in the world and its signature productions, Varekai.
It is your once in a life time opportunity to be a part of a magnificent show called Varekai that has already enchanted millions all over the world. Get your ticket for one of the three shows that will take place in Stožice venue, Ljubljana on October 14th and 15th, 2016. Tickets for this unique life experience of Cirque du Soleil's Varekai will be available at www.cirquedusoleil.com, Eventim.si and Eventim selling points starting Monday, August 29th. For Cirque Club members advanced tickets will be available already Friday, August 26th.
Treat yourself with a show that will leave you breathless while experiencing amazing artists, perfection in production and colors only known to Varekai.