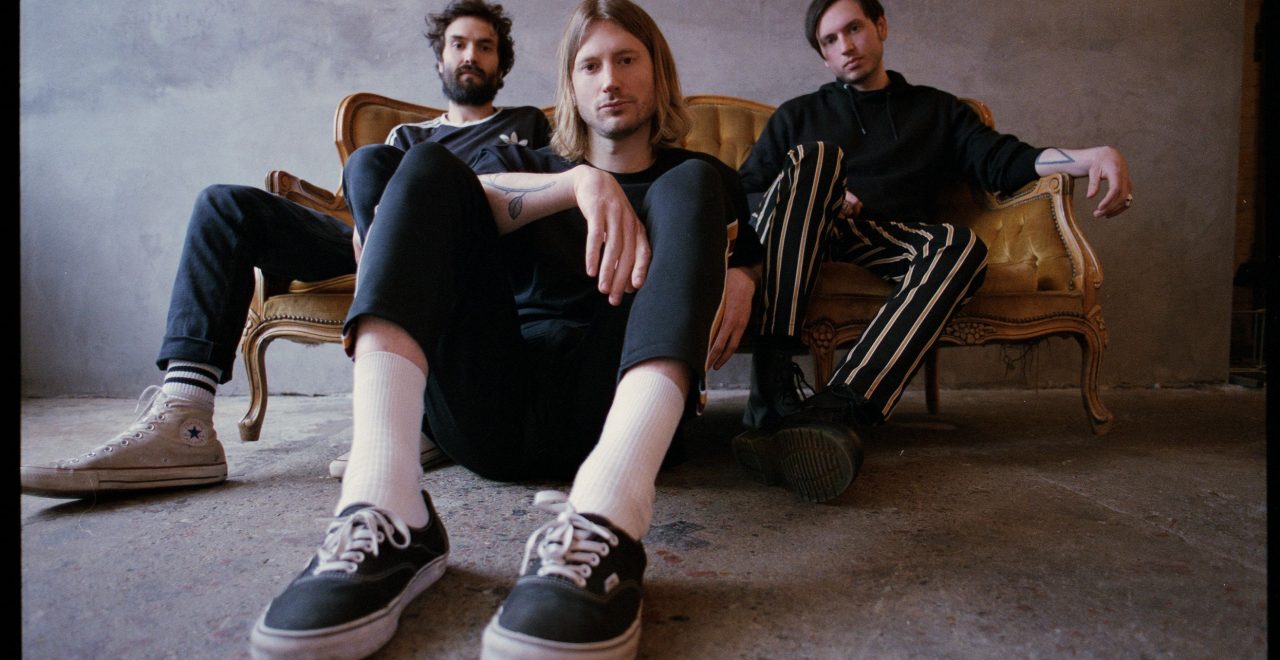 Mo, 2. Dez 2019
Diese Show wurde abgesagt
DINOSAUR PILE UP
With the ink still drying on a deal with the legendary Parlophone Records, Dinosaur Pile-Up singer and guitarist Matt Bigland knows the platform is now there for him to showcase his talents as one of rock music's finest songwriters. His band have long been talked of as one of British music's most consistently exciting outfits. Now it's time to prove it.
"What does success look like to us," he asks. "That's a good question…"
Matt takes his time before arriving at a conclusion. Then…
"Autonomy. The ability to make the music we love, for the people who love it."
No fame? No fortune?
"No," he replies, laughing. "Just the music."
Matt Bigland knows all about the power of music, specifically the melodic fuzz of the grunge and indie rock records handed down to him by his older brother, growing up in a single parent family in west Yorkshire. He's thinking of early Foo Fighters records. Nirvana. Weezer. Smashing Pumpkins. Rage Against The Machine. "Life changing sounds. The sort of music that makes you want to…"
He says nothing, but the look of excitement on his face speaks volumes about the emotions he's attempting to convey.
Matt has been on a journey with music over half of his life. A journey that started life in his teenage bedroom. Posters on the walls. A battered old electric guitar resting against the door. So much flannel, checked cottons everywhere. And on his bed, a drumkit of sorts, fashioned out of boxes and "a plastic bag for a high-hat. It sort of made the same sound, sort of…"
It's here that Matt wrote the early records by his band – of sorts – Dinosaur Pile-Up, named after a silly scene in Peter Jackson's retelling of King Kong's super-simian story in 2005, in which a load of dinosaurs literally pile up. It's here he spent his time deconstructing the music made by his heroes, trying to understand how the songs they wrote worked and how they managed to make him feel like they did. Getting into the guts.
"The first time I wrote a riff that I liked," he says, "I knew music was what I wanted to do. I wanted other people to feel like I did. Not that I could admit that to myself then…"
A skilled illustrator, Matt toyed with trying to make a career out of art. He even enrolled in an Art Foundation course in Leeds, though he dropped out before he had time to attend the first lesson. "I broke my mum's heart," he says sorrowfully. "I think that was the moment I realised that if I was going to do music, I had to make it work…" He laughs. "In lots of ways, that was when shit started to get real…"
And so Matt would paint his pictures, not on canvas, but in the music venues of Leeds. He found a bassist. He found a drummer. He found many bassists and drummers actually, rarely settling on a stable line-up. But people liked his band. Inspired by the can-do attitude of his hero Dave Grohl, he wasted little time in recording and releasing two albums; 2010's Growing Pains and 2013's Nature Nurture. They took him and Dinosaur-Pile Up across Europe with The Pixies, as well as sharing stages with the likes of Feeder, Royal Blood and Weezer. Dinosaur Pile-Up – and Matt's ability to write songs best described as powerful lullabies; heavy rock songs dipped in sugar is another hot take – became many people's favourite band, including drummer Mike Sheils.
"The first time I saw Mike play, he instantly became my favourite drummer," says Matt. "He's a bit younger than me, but he was so powerful, he looked amazing with his hair flying around. He reminded me of Dale Crover from The Melvins, one of my favourite drummers. When Mike joined, that's when Dinosaur Pile-Up became a band, really – an actual band – and not just my thing…"
Matt and Mike became a powerful union. Festivals followed, radio airplay, a rabid fanbase, one built from the ground up. Because here's what Mike and those who came to see the band knew; somewhere between leaving his bedroom and plugging into the amplifier that sat beside his drums every night, Matt Bigland had become one of British rock's finest songwriters.
Matt sighs a weary sigh. It's one he's sighed many times before; in backstage rooms, warm beer fermenting by his side. In splitter vans. In graffiti-daubed rehearsal rooms. It's a sigh familiar to an entire generation of British rock bands.
He shrugs. "And yet there were times where we just thought, 'there must be more than this…'"
Somewhere within a lean decade of British rock, Dinosaur Pile-Up arrived on a settled line-up with bassist Jim Cratchley, a friend of Matt's of almost a decade. In 2015 the trio recorded and released their strongest collection of songs to date, third album Eleven Eleven. And yet the glass ceiling above them seemed to inch lower and lower. "We never set out to be the biggest band in the world," says Matt. "I was much more interested in being the best. But it comes back to what I was saying about autonomy. We just wanted a platform to be able to do what we do… because I never stopped thinking, 'we're really good at this, and maybe these songs can make people's lives better than they are…'"
Inspired by the colossal success of scene leaders Biffy Clyro ("a huge inspiration to us and every British rock band," says Matt. "Bands aren't supposed to break on their third record. The fact they showed that could be done was hugely inspiring to us…"), they kept on, trying to grow their following with each opportunity that presented itself to them, trying to turn the tide for band and for genre. "Just trying to keep the faith, but scared for what our lives would be if we'd come this far – two decades after starting – and then… just had to pack it all in…"
And then, days after Matt had come the closest he ever had to doing just that, news of the deal with Parlophone Records reached him. Turns out someone there had known that Matt Bigland was British rock's best kept secret too. You'll be pleased to learn that Matt's mum isn't so upset anymore.
"Does it feel like success?" he ponders. "Not really. It feels like now is where the hard work really starts…"
Matt is right. Now, with a powerhouse label behind them and all the support that entails, Dinosaur Pile-Up's mission is to convince anyone who'll listen, what those in the know knew all along. They'll do this with new, fourth album Celebrity Mansions, a collection of songs that sizzle with big melodies, skewered through with raw, intoxicating emotion.
Songs like the chugging 'Thrash Metal Cassette', which explodes with evanescent joy even before the song arrives at its perfect pop chorus. Or 'Back Foot', which takes the slacker rock template and applies a coating of gonzo heavy metal, resulting in the most fun combination of guitar, bass and drums you've heard in an age. It means songs like 'Pouring Gasoline' (the biggest chorus you dare think of) and 'Round The Bend' (proof that you can always think bigger) are undeniable proof of Matt's growing diversity as a songwriter. But it's closer 'Long Way Down', which illustrates Matt's talents in the most poignant way, being the prettiest, warmest, loveliest song he has perhaps ever committed to tape. Fittingly, it's about his late father.
"That song is the first and only song to date that I've ever written about my dad," says Matt of 'Long Way Down'. "He died in a plane crash when I was eight. I'd never included it on a record before because it felt too personal, but I put it on this album because I wasn't sure if I'd get the chance again, and I always liked the idea of singing a song to him. I thought it only right that it close the record. I thought a lot about that when thinking about the tracklisting…"
Why 'Celebrity Mansions', Matt?
"It's a reference to when we were on tour, questioning whether we'd wasted our lives doing this, wondering if we'd ever get a break," smiles Matt, increasingly confident as he recalls a scenario now in his rear-view mirror. "I'd see what you'd call 'Influencers' on Instagram. Popstars making money from being attractive. People with seemingly nothing to say. And I'd just think, 'surely there's more to life than this. Surely people want more than this. Surely they want some substance. I mean, we're talking about music. It matters…'"
Matt Bigland has always believed in music. Turns out that, ultimately, music always believed in him. Now, how about you?