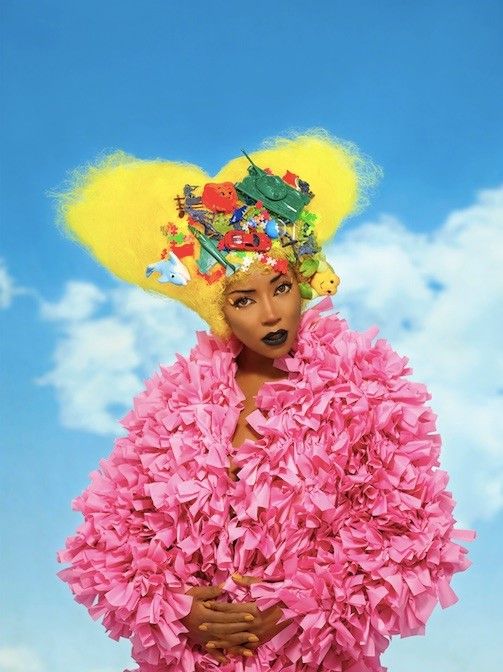 Fr, 20. Sep 2019
Diese Show wurde abgesagt
Ebony Bones secures her status at the forefront of genre-bending avant-garde on new album Nephilim. The London-born producer/singer/songwriter's forthcoming fourth release is out July 20th on her own label 1984 Records, and today she reveals the title track and breathtaking accompanying video. The manic, soaring piece combining orchestral elements with Bones' signature hard-hitting beats is paired with a cinematic clip filmed in the Swiss Alps that marks Bones' directorial debut. Nephilim" included, feature Bones in tight collaboration with the Beijing Philharmonic Orchestra, who perform her compositions.
Nephilim is a frenetic exploration of censorship: the conspicuous kind in China vs. the more insidious type in the west; and of the emergence of nationalism post-Brexit and post-Trump. Its otherworldly sound is built on elements of experimental jazz, Afrofuturist overtones and punk inflections. One of the album's centerpieces, "No Black in the Union Jack" is a commanding manifesto featuring an audio clip of a Enoch Powell's notorious River of Blood speech from 1968. Sadly on its 50th anniversary, the sentiments are still being shared in Ebony's home country. The album was recorded in London, New York City an Beijing. Besides the Beijing Philharmonic Orchestra, the album features saxophone legend Lonnie Youngblood (Jimi Hendrix, James Brown) and is engineered by Grammy-winner Mandy Parnell. Among the 11 tracks on the album, there is one cover of the Junior Murvin/ The Clash classic "Police & Thieves."
2018 marks ten years since Bones first uploaded an anonymous demo to MySpace entitled " We Know All About U," which was discovered by Zane Lowe and became the BBC's most played record by an unsigned artist. In the time since, Bones has released two full length albums (2009's Bones of My Bones and 2013's Behold, A Pale Horse) and one EP (2015's Milk & Honey pt. 1), garnering widespread critical praise from NPR, New York
Times, The FADER and many others. Bones' latter release caught Yoko Ono's attention who subsequently enlisted Bones to re-work "No Bed For Beatle John" for her 2016 album Yes, I'm A Witch Too. The Guardian praised Bones' production on the track as "brilliant." As a woman, Bones is among a frighteningly low proportion of female solo producers—fewer than 5%. As she continues to break through the boundaries of sound and production, Bones seeks to leave the door open behind her for more female producers to enter.
Bones is known for her high-watt stage presence that has earned praise as "better than the Beatles" by The New Yorker and a "riotous jungle-punk stage act" by New York Times T Magazine.