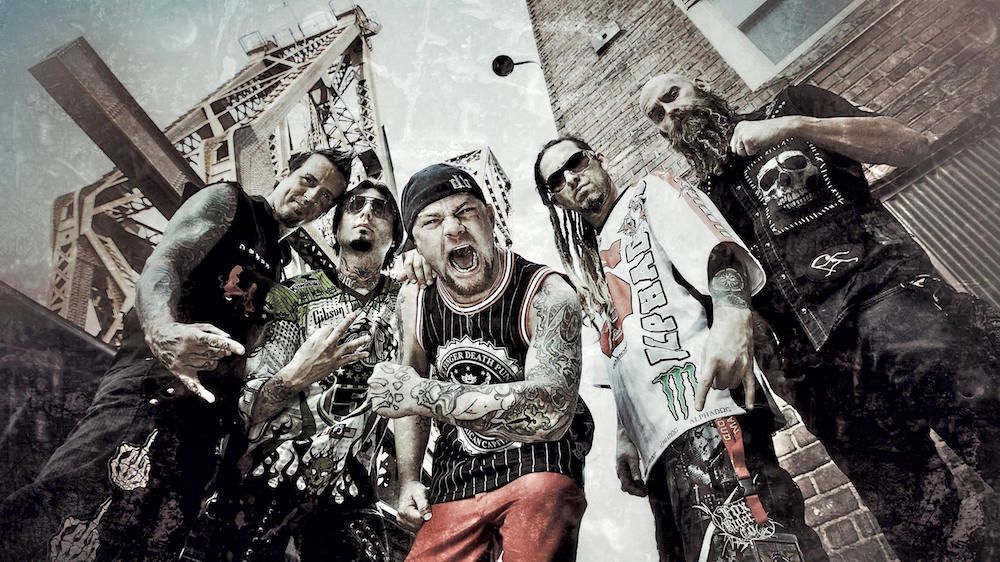 WICHTIGER SICHERHEITSHINWEIS

Die Sicherheit unserer BesucherInnen liegt uns am Herzen, wir unternehmen alles um diese zu gewährleisten. Helfen sie uns die Sicherheitskontrollen zeitlich so kurz wie möglich zu halten indem sie keine verbotenen Gegenstände mitnehmen, keine oder nur kleine Taschen (max. A4 Format bzw. 30x20x20 cm) mitbringen, diese zum Securitycheck bereits geöffnet vorweisen und auch sonst den Aufforderungen des Sicherheitspersonals Folge leisten.
IMPORTANT SAFETY INSTRUCTIONS
The safety of our visitors is very important to us . Help us to keep the security controls as short as possible in time by not taking forbidden items, bring no or only small bags (max A4 format or 30x20x20 cm), have them already opened for security check and otherwise follow the requests of the security personnel.
***
New York, NY – October 27th, 2017 – LA-based multiplatinum hard rock band, Five Finger Death Punch, (consisting of vocalist Ivan Moody, guitarists Zoltan Bathory and Jason Hook, bassist Chris Kael, and drummer Jeremy Spencer) are excited to unveil that they will be releasing a greatest hits album, A Decade of Destruction, on December 1st.
The compilation will include two new tracks – the first new music the band has released in over 2 years. Pre-order the collection now!
In conjunction with today's announcement, the rock juggernauts have released one of the new tracks from the album, titled "Trouble." PRESS HERE to purchase via iTunes and stream on Spotify and Apple Music. Check out the lyric video for the single HERE.
Five Finger Death Punch are also thrilled to announce that they will be releasing their 7th full-length studio album in spring 2018 via Prospect Park Records in North America and Eleven Seven Music internationally. The album follows their critically acclaimed 2015 chart-topping hit album Got Your Six, which featured #1 single "Wash It All Away" and was certified gold in 2016.
The band is currently preparing to embark on the biggest European arena rock tour of Fall 2017. They'll be on the road co-headlining with In Flames and special guests Of Mice & Men. For more information, tickets and VIP offerings, go to www.fivefingerdeathpunch.com. Stay tuned for more exciting announcements in the coming weeks!
A Decade Of Destruction Track Listing
1. Trouble
2. Gone Away
3. Lift Me Up
4.
Wash It All Away

5. Bad Company
6. Under And Over It
7. Wrong Side Of Heaven
8. House Of The Rising Sun
9. I Apologize
10. The Bleeding
11. Jekyll And Hyde
12. Remember Everything
13. Coming Down
14. My Nemesis
15. Battle Born
16. Far From Home