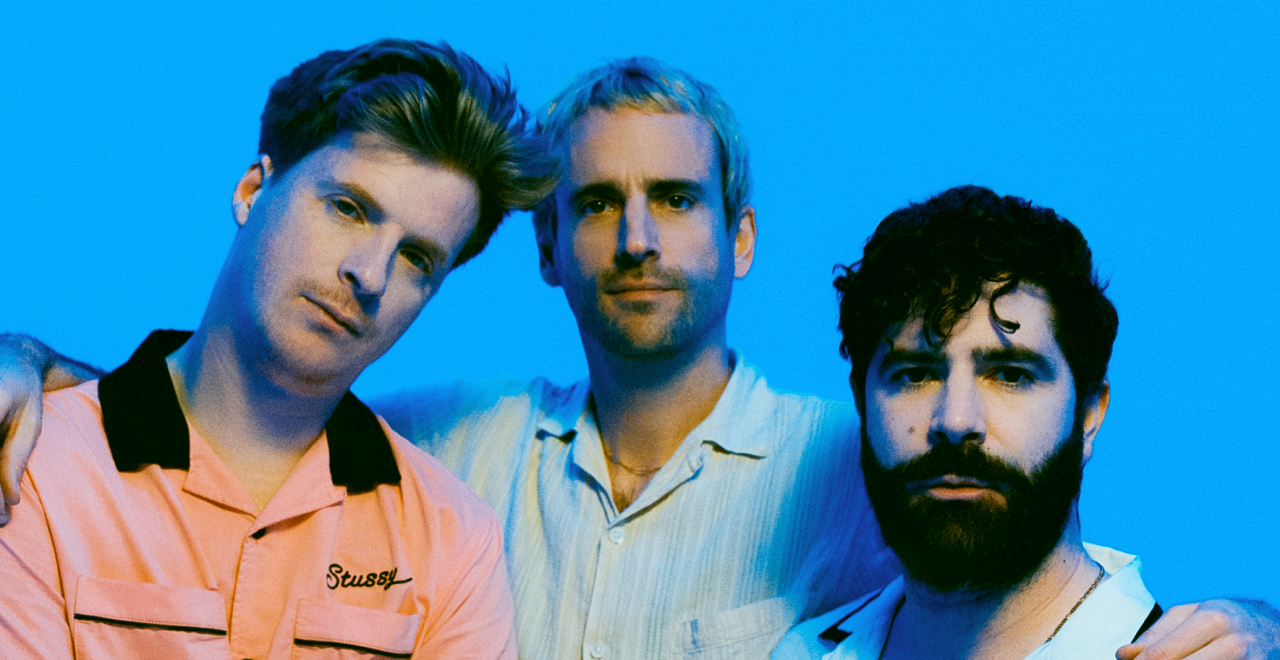 The bleak midwinter lockdown of 2020 cast an oppressive gloom over us all. While the seasons usually ebb-and-flow in their own ephemeral way, instead it felt like an endless time-loop in which restrictions continued to amplify our solitude and daylight felt like a fleeting luxury. This was when Foals started to develop ideas for the follow-up to their triumphant, two-part 'Everything Not Saved Will Be Lost' in the confines of their small, windowless rehearsal room in Peckham. Yet somehow they emerged with their new album 'Life Is Yours', a record which positivity beams with sun-kissed summer fervour, life-affirming optimism and a new-found zest for life.
Almost 18 months later, those words now also reflect frontman Yannis Philippakis's demeanour, even when he's reflecting upon the gloomy environment that surrounded Foals – completed by Jimmy Smith and Jack Bevan – as they started work on the album. "When we were in those bleak moments, the songs became the windows, the telescopes to a future in which the world is re-emerging, the sun is out, and people would be back in the clubs and at shows. The streets felt depopulated and being on the road was such a remote prospect that we felt contained and tethered. But in these songs you can sense our desire for the physical communion of a live show – it's something you can't even begin to recreate at home."
That transportive, escapist quality glows bright throughout the album, both within its sonic adventures and its subject matter. There's an irresistible physicality to the songs which make it, as Yannis affirms, the poppiest Foals album to date. The band's prototype flair for punchy, insistent hooks has been filtered through traits which they've previously touched upon, but never pushed to their natural extreme: at various moments taking in choppy Chic-esque guitars ('Wake Me Up'), tight syncopated rhythms ('2am'), Balearic beats ('Looking High'), West African guitar grooves ('Flutter), and playful dance-rock jams ('The Sound').
But as a lyricist with a penchant for philosophical themes, Yannis went deeper than simply infusing these sounds with party-starting tropes. He conjures evocative images of far-flung places, from the boreal coastal forests of the Pacific North-West ('Life Is Yours') to the beguiling beauty of the mountains perched upon the sea in St. Lucia ('Crest of the Wave'). Escapism can also be achieved via time rather than place, as shown by the sugar rush nostalgia of '2001' or a rumination on the changing face of their hometown Oxford's club scene on 'Looking High'.
It all comes full circle with the closing song 'Wild Green', which celebrates the rebirth of summer with an existential tinge that all beautiful moments are inevitably passing. 'Wild Green' was one of the tracks recorded during the record's concluding sessions at Real World Studios near Bath, where the location's verdant summer surroundings of matched the album's ardent atmosphere.
As much as 'Life Is Yours' is a reaction to circumstance, it's also a response to the dramatic scale and scope of 'Everything Not Saved Will Be Lost'. Foals wanted to create a record with a laser-sharp focus. As Yannis continues, "On some of our other records, it felt like there was such a spectrum of different types of songwriting, production techniques and palettes that it could be more of a fragmented listen. On this one we wanted to try to do something that was focused, and that shared a DNA throughout the songs."
That design was achieved in a manner that, on the face of it, sounds counter-intuitive. After those early sessions in Peckham, recording took them to a handful of studios as they experimented with collaborating with a tapestry of producers in differing configurations. The album's creative voices include John Hill (Cage The Elephant, Florence + The Machine), Dan Carey (Tame Impala, Fontaines D.C.), Miles James and A.K. Paul (co-founder of the Paul Institute with his brother Jai Paul). Mixing was then mostly split between the ten-time Grammy Award winner Manny Marroquin (Post Malone, Kanye West, Rihanna) and another multiple Grammy Award winner in the shape of Mark 'Spike' Stent (Coldplay, Muse, Kings of Leon).
"We had some reservations about that process," admits Yannis, "but it worked out much better than we had hoped. It has made the record really colourful and vibrant in a way that maybe it wouldn't have been had it been recorded with one person in one place."
The "physicality and a danceability" that Foals unlocked with 'Life Is Yours' reflected their roots in Oxford as a band who would always instigate chaos at house parties. Their rehearsal room sessions echoed their early DIY days in a plethora of ways: the simple joy of performing live together in a room, a tight, stripped-back approach to the sound, and the energy ignited by both preceding factors. Foals are leaner than they have been since debuting with 'Antidotes' in 2008.
While 'Antidotes' immediately established Foals as a critical and commercial success, they were one of several breaking British alternative/indie bands making waves at the time. But as they achieved five consecutive Top 10 albums from their debut to Part One of 'Everything Not Saved…' Foals now seem to be almost the last ones standing. And they have flourished on their own terms. Their biggest moments – 'My Number', 'Mountain At My Gates' or 'In Degrees' – feel just at home on the Radio 1 airwaves as they do during the band's electrifying festival headline sets. They might place greater or lesser importance at various moments on big riffs, dance beats or sprawling psychedelia, but their reputation and following has grown with each record.
That continued evolution resulted in a new career peak with 'Everything Not Saved Will Be Lost – Part Two' late in 2019. It went straight to #1 on the UK Official Album Charts, ahead of competition from James Arthur and Yungblud, before Foals won Best British Group at the BRIT Awards a few months later. Its testament to Foals' integrity, vision and determination that these first-time achievements came over a decade into their career.
And now with 'Life Is Yours', Foals again follow their instincts and do things their own way in a style that few would've predicted. As 'Wild Green' says so simply, "spring is on its way" so engross yourself in an album that celebrates life's endless possibilities. Make the most of it because life is yours.