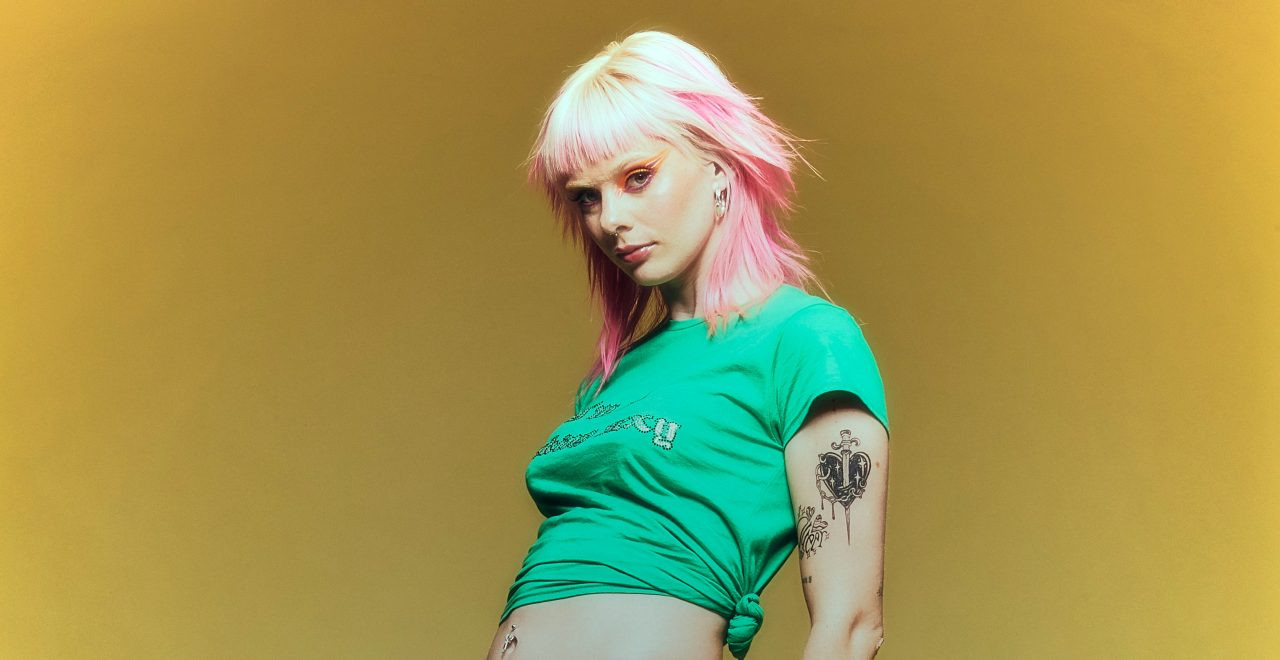 Fr, 14. Jun 2024
girli
Matriarchy Tour
Alt-pop agitator girli has always been bold, provocative and unapologetically herself. "Make out with my girl in the gay club, back to hers and do it in the bathtub," she sings on her anthemic new single 'Matriarchy'. It's a multifaceted banger rooted in the rebellious thrill of falling in love as a queer woman. "It's about me and my girlfriend, but I was also thinking about all the queer women from history whose stories haven't been told because society sees love through a heteronormative lens," she explains. "I also wanted to write a song about being woman and thinking, 'Fuck this patriarchal society – I'm going to make my own matriarchy instead."
'Matriarchy' is quintessential girli – "a loud, confident banger", as she calls it – but also ushers in a transformative new era. She describes her upcoming album 'Matriarchy' as her most "reflective" and "vulnerable" body of work yet. "With past projects, I always felt like there had to be an overall theme or message," says the musician also known as Milly Toomey. "But with this album, I'm just telling the story of me." When girli began working on the album with producers including fellow Londoner Gil Lewis and LA-based Zhone, she was about to release her most recent EP, 'why am i like this??", and had no grand plan in mind. "I just wanted to write songs about everything I was going through at that time," she says.
Releasing the pressure she had previously placed on herself – "What should girli sound like? What should girli be trying to say?" – proved to be creatively liberating. "Suddenly I realised I'd written 40 songs and delved into so many different facets of being me that this needed to be an album," she says.
She decided to name the album 'Matriarchy', the same name as the first single, a song that portrays the beauty of being in love with a woman and existing in the female gaze within a suffocating patriarchal society. "I chose to use it as the album title because that word means so many things to me. The matriarchy of being a queer woman in love with another, the matriarchy of being my own queen who governs my life (or queendom), and a commentary on taking back power." The album artwork, girli posing within an ornate frame hung up in a gallery, further comments on the power of owning and deciding your own image and story; something that's been a battle for women and LGBTQ+ people for centuries.
Other songs like future single 'Be With Me' capture what girli calls "a feeling of joy after pain". She begins 'Be With Me' by singing "I think I've just met my future wife" – an attention-grabbing line designed to surprise her fans. "People will assume it's another song about being in a queer relationship, but I'm actually saying that I'm my own future wife," she explains. "I wrote it after going through a break-up and realising that I actually love being by myself. That was a big thing for me because in the past, I had always looked for validation in relationships."
This personal breakthrough has coincided with an evolution in how girli approaches her artistry. When she broke through seven years ago with edgy electro gems like 'Girls Get Angry Too' and 'Fuck Right Back Off to LA', she relished being combative. "Initially I was pissed off about a lot of things and I just wanted to get them out," she says. "But now, writing songs is like therapy for me – it's about processing things I've gone through and how they shaped me as a person." Absolute candour is the bedrock of any girli song, whether she's singing about unachievable beauty ideals on 2021's 'Dysmorphia', mental health on 2022's 'I Really F**ked It Up', or her own insecurities on 2023's 'Imposter Syndrome'.
One of her most popular songs to date, 2021's 'More Than a Friend', captures all the gnawing awkwardness of unrequited love. "Does she feel the same? Does she want me back?" girli wonders – a sense of desperation many of us will relate to. This unselfconscious honesty has made girli a cult figure and proud ambassador for the next generation of LGBTQIA+ musicians. "The thing that gives me the most satisfaction is when I meet fans after my shows and they tell me my songs helped them through a difficult time," she says. "That's when I really know I'm on the right path."
This journey began in north London, where girli was raised by actor parents who encouraged her creativity. Though she loved performing and political debates, it became clear that music was her true calling. "I wanted to be on stage, I wanted to tell stories and I wanted to make a difference. Writing songs gave me the opportunity to do all of that," she explains. The music room at her state secondary school was "literally just a corridor with some broken trumpets," but luckily she heard about a young creatives programme at the nearby Roundhouse. "If you were under 18, you could book the rehearsal studios for £1 an hour," she recalls. "It was the first place I got to play around with instruments and production."
At first, girli sang in bands with fellow Camden teenagers, but she soon realised she was "too much of a control freak" not to go solo. She adopted her stage name and signature pink hair during this period as a way of "weaponising everything that was being used against me". Right from the start, girli took pride in being slyly subversive. "The word 'girly' has so much stigma attached to it because it's often used to belittle femininity," she explains. "I wanted to take that word and turn it into something powerful, and I changed the 'y' to an 'i' so people would be able to find my music on Google."
Now, with fans around the world embracing girli's music as an inspiring and comforting part of their everyday lives, she is ready to enter her most revealing era. "I was definitely an angsty teenager who wanted to shout into the mike and put my middle fingers up to everyone," she says with a laugh. "But over time, I've become more sensitive as a person, which has made my music even more authentic. I still definitely have that feisty side, but I like that I can also be more vulnerable in my music. With this album I'm showing more of myself than ever before, and that's a really exciting feeling."