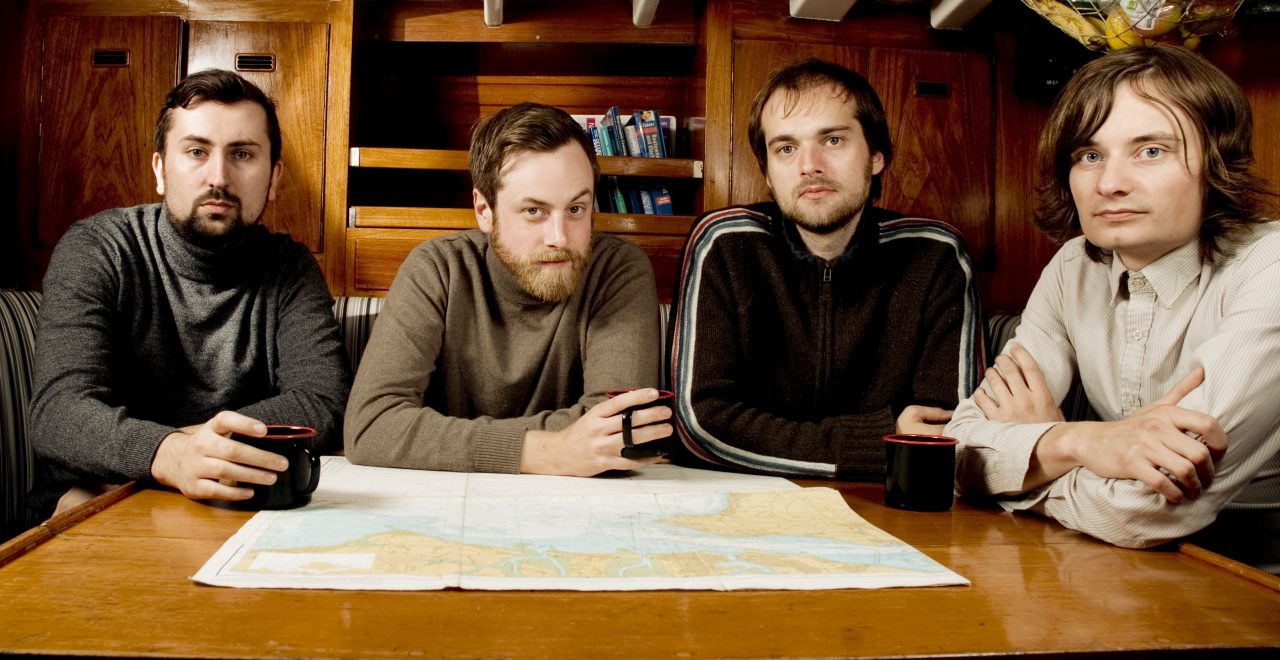 Mi, 26. Jan 2011
I LIKE TRAINS
I LIKE TRAINS, once a band obsessed with history, are now emerging into the light with a new album and a wary eye on the future. They have flourished within Leeds' fertile music scene since their inception in 2004 and have seen their intelligent, thought provoking and quintessential British world embraced by a growing following around the globe. The NME described them as 'brilliant, unique, wry… at odds with pop's present trends.' Uncut Magazine referred to them as 'Bold and Impressive', and the Guardian cast them as 'Intelligent, very dark humorists? grand civic music, less to be listened to and more to be visited like a museum or war memorial, and all the more interesting because of it.' Moreover, the widescreen nature of their music has found them in demand for film and television soundtracks with recent syncs including the ever popular CSi: Miami and trailers for Hollywood films The Wrestler and Amelia.
The quartets new album 'He Who Saw the Deep' due for release on October 25th 2010, is the first release on the band's own ILR label. Having successfully secured funding from a loyal fan base via the Pledge Music website, the record marks a new chapter for I LIKE TRAINS. There is a progression and a streamlining to their signature dark atmospheric sound. There is light and shade, hope and devastation. Where once, the band had looked to the past for its inspiration, this record has its eyes firmly on the future, yet for all this 'He Who Saw the Deep' is still recognisably an I LIKE TRAINS record, and one which looks set to impress old fans and turn plenty of new heads.
I LIKE TRAINS released their debut single 'Before The Curtains Close' on the Leeds Label 'Dance to the Radio' in 2005. The murder ballad soon sold all 500 copies and was followed by their second single 'A Rook House For Bobby' on Kids. The dramatic tale depicting the life of Bobby Fischer, the troubled chess grandmaster, sold all 500 copies in its first week and earned them recognition from both radio and press in the UK. Their third single was released in 2006 on Fierce Panda and sold all 1000 copies in its first week. 'Terra Nova' was the story of Captain Scott's doomed 1912 Antarctic expedition set to a sensational orchestra of guitars as grand as the landscape it describes and earned the band regular plays on national radio and glowing reviews. The band's zero-budget animated homemade video re-enacting the last days of Scott and his team has become as popular as the song and received regular plays on MTV2 as well as forming part of a permanent display at the Fram Museum, Oslo in celebration of the expedition in 2011.
The summer of 2006 saw the release of the mini-album 'PROGRESS, REFORM' on Fierce Panda, which was a catalogue of their recordings to date and full of the band's unique, beautiful sounds and rousing songs, brimming with exceptional characters and historical events. The songs covered such subjects as Captain Scott, Hjalmar Johansson – a rejected candidate for the Norwegian Antarctic team; Bobby Fischer and a reprise to Bobby's political status; Dr. Beeching, who closed the British National railways and other tales of damned or murderous events.
I LIKE TRAINS' first full length record 'Elegies to Lessons Learnt' followed in October 2007, released on legendary independent label Beggars Banquet. This took the band's historical obsession to its logical conclusion, an ambitious record illustrating how history repeats itself and how the human race fails to learn from its mistakes. It was accompanied by a series of singles which showed that there is always more than one side to every story – each b-side took up the same tale from an alternative perspective.
Following the folding of the Beggars Banquet label, I LIKE TRAINS released 'The Christmas Tree Ship EP' at the end of 2008 on yet another influential independent label Fantastic Plastic'. With each release the band has seen their reputation as a formidable live act grow and they have toured extensively in the UK, Europe, Russia and the USA including stints supporting the likes of Sisters of Mercy, British Sea Power and Editors. Always engaging, didactic and with a genuine passion for music as a form of intellectual expression, I LIKE TRAINS continue to be one of the most influential bands of their kind in the UK and look set to cast their net only wider with 'He Who Saw the Deep'.
'He Who Saw the Deep' will be released on October 25th 2010 with the first single 'A Father's Son' released on November 15th.