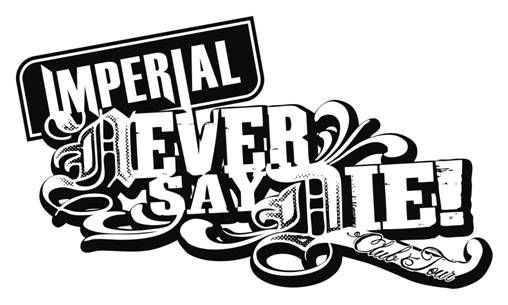 Mo, 15. Nov 2010
IMPERIAL NEVER SAY DIE! TOUR 2010
The annual Never Say Die! tour from Avocado Booking has grown into a concert-going institution. Consistently featuring genre-leaders in the metal, punk, and hardcore realms, each year's line-up has outdone the previous one, and 2010 saw NSD! broadening its reach to American shores for the first time. As if to affirm its longevity and show no signs of slowing, Avocado Booking presents the Imperial Never Say Die! European tour 2010!
LINE UP:
PARKWAY DRIVE
(Australia – Epitaph/Burning Heart)
http://www.myspace.com/parkwaydrive
COMEBACK KID
(USA – Victory Records)
http://www.myspace.com/comebackkid
BLEEDING THROUGH
(USA – Roadrunner)
http://www.myspace.com/bleedingthrough
EMMURE
(USA – Victory Records)
WAR FROM A HARLOTS MOUTH
(Germany – Lifeforce)
http://www.myspace.com/warfromaharlotsmouth
YOUR DEMISE
(UK – Visible Noise)
http://www.myspace.com/yourdemise
WE CAME AS ROMANS
(USA – Equal Vision/Redfield)
http://www.myspace.com/wecameasromans
Parkway Drive have repeatedly earned their place at the top of the metallic-hardcore elite. Countless tours, critically acclaimed albums and an insane live show have all contributed to their high-ranking status. However, throw in a new album to be released this year, in time for Never Say Die!, and you've got THE band to look out for in 2010.
Luke Kilpatrick/PWD: We've done 2 Never Say Die tours now and I can honestly say they are by far the best tours we've ever done in Europe and the UK, if not the world. We cannot wait to get back out to Europe and the UK to be a part of Never Say Die again. This will be the first chance kids will get to see a whole lot of new songs off our brand new record 'Deep Blue'.
COMEBACK KID are certainly no strangers to European audiences thanks to their tireless work ethic and relentless touring schedule ? both of which helped to bring about their recent live album and DVD (Victory Records), furthering cementing their place in modern hardcore/punk.
Andrew Neufeld/CBK: We're excited to come back as part of such a fantastically diverse tour like Never Say die! It's going to be awesome to play for old CBK supporters as well as to a lot of new people who we haven't reached yet, playing with some old friends and making some new ones. I imagine these shows will be insane! To boot, we'll have a new record out just in time 😉
Helping to add a dose of metallic aggression to the bill is BLEEDING THROUGH from Orange County, California; complete with a new album and record label under their belt to add ammo to their already devastating delivery.
Brandan Schiepatti/BT: We're really excited to do Never Say Die 2010. To be apart of such a well respected tour that helps spread the word of HEAVY music across Europe and to have the opportunity to share the road with such good people and play with this incredible lineup is something to behold.
EMMURE have rocked European audiences before and will be playing their breakdown-savvy metalcore in support of their newest Victory Records release, 'Felony' adding a healthy amount of groove to the package.
Representing Germany on Never Say Die! is WAR FROM A HARLOTS MOUTH. Having recently released their second full-length album (Lifeforce Records), in addition to a number of split-albums, this five-piece from Berlin is one live act you don't want to miss ? insanity!
Rounding out the 2010 edition of Never Say Die! is YOUR DEMISE from the UK who bring with them a new album of no-frills, pissed hardcore and an intense live show to get your blood pumping.
WE CAME AS ROMANS hail from Detroit and will be opening the proceedings, they come in support of their Equal Vision Records debut 'To Plant A Seed' and are sure to impress with their explosive brand of aggression and melodic power. Do not miss out!
"This years Never Say Die is leagues beyond any of the others that have come before, we've worked around the clock to make sure that this years line-up is above and beyond anything that's come before and we've delivered." says Avocado co-founder Marco Walzel. »NSD! 2010 is sure to knock people off their feet. This is one tour you do not want to miss!«
"Never Say Die has become something of a bench mark for alternative package tours, so many great bands! It's giving the people what they want and the people obviously agree as they keep coming back for more every year. To be apart of something so exciting and special and cutting edge is something we at Imperial are extremely proud of. Never Say Die 2010 is beyond anything out there, period." says Martin Boettcher of Imperial Clothing.
Having continually pushed the envelope with their memorable tours and exciting new talent from around the world, Avocado Booking are thrilled to bring this tour to European audiences from October 29th though November 20th.
Partner & Sponsoren
Bank Austria

Musicticket

Volume