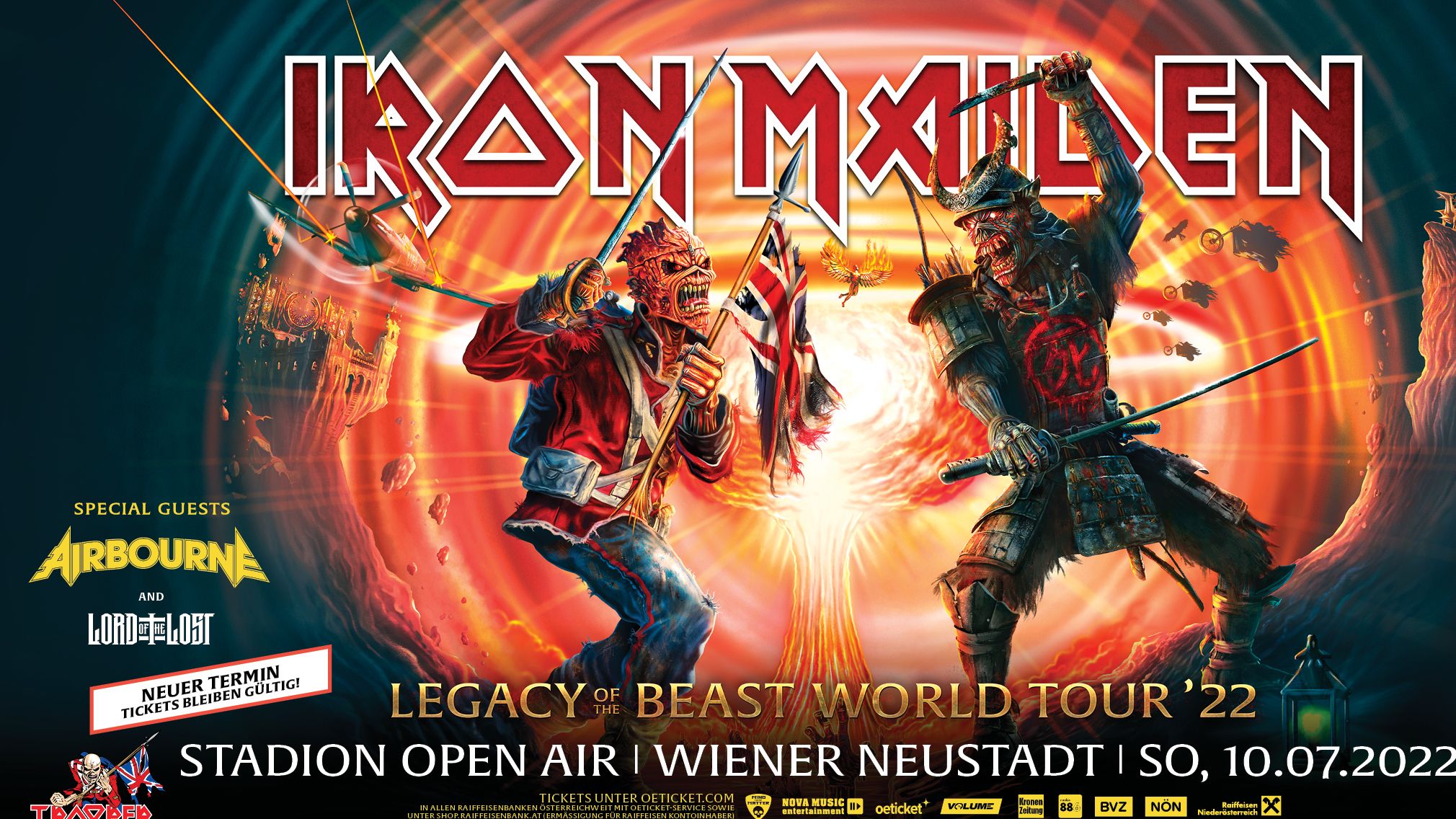 So, 10. Jul 2022
Neuer Termin! Diese Show wurde verschoben
Die Show ist ausverkauft.
Danke an alle Fans!
***
ACHTUNG: DIE SHOW WIRD LEIDER ERNEUT VERSCHOBEN!
***
IRON MAIDEN "EUROPEAN LEGACY OF THE BEAST SUMMER 2021 TOUR" – verschoben auf 2022.
Wir bedauern sehr, dass die Termine für IRON MAIDEN 2021 im Juni und Juli auf der Legacy Of The Beast Tour aufgrund der anhaltenden Einschränkungen der COVID-19-Pandemie bei globalen Live-Events und den damit verbundenen Reisen verschoben wurden. Die "Legacy Of The Beast Europa Tour" findet nun im Sommer 2022 statt. Alle Tickets bleiben gültig.
Neuer Termin für das Konzert in WR. NEUSTADT, STADION OPEN AIR:
SONNTAG,10. JULI 2022
Weitere Informationen finden Sie auf www.ironmaiden.com und auf barracudamusic.at
Manager Rod Smallwood zur Verschiebung: "Natürlich ist die Band sehr enttäuscht, ein zweiter Sommer ohne Tournee, besonders mit dieser ganz besonderen Legacy-Show, ist sehr schwer zu ertragen. Die Musiker senden allen ihren Fans die besten Wünsche. Wie wir alle wissen, gibt es realistisch gesehen keine Alternative, also werden wir alle das Beste daraus machen und die Zeit damit verbringen, uns auf eine unvergessliche und noch spektakulärere Legacy-Tour im nächsten Jahr vorzubereiten, das versprechen wir!
Bis dahin bleiben Sie gesund."
Special Guest und Support bleiben AIRBOURNE sowie LORD OF THE LOST.
***
IRON MAIDEN "EUROPEAN LEGACY OF THE BEAST SUMMER 2021 TOUR" – POSTPONED TO 2022
We regret to announce that the IRON MAIDEN 2021 June & July dates on the Legacy Of The Beast Tour have been postponed due to the continuing COVID-19 pandemic restrictions on global live events and travel. The Legacy Of The Beast European Tour will now take place in the Summer of 2022 on the dates below. All tickets remain valid.
New date for AUSTRIA – WR. NEUSTADT, STADIUM OPEN AIR:
SUNDAY, July 10th 2022
More information: www.ironmaiden.com and barracudamusic.at
Manager Rod Smallwood comments: " Naturally the band are hugely disappointed, a second summer without touring, especially with this very special Legacy show, is very hard to take. They send their best wishes to you all, knowing full well you fans will feel the same. As we all know, realistically there is no alternative so we will all make the best of it and spend the time preparing for a very memorable and even more spectacular Legacy tour next year, we promise!
Until then keep safe and keep smart."
AIRBOURNE and LORD OF THE LOST remain special guest and support.
**Die Veranstaltung wurde aufgrund des COVID19-Erlasses verschoben.
Due to the Covid19 decree this event is rescheduled. **