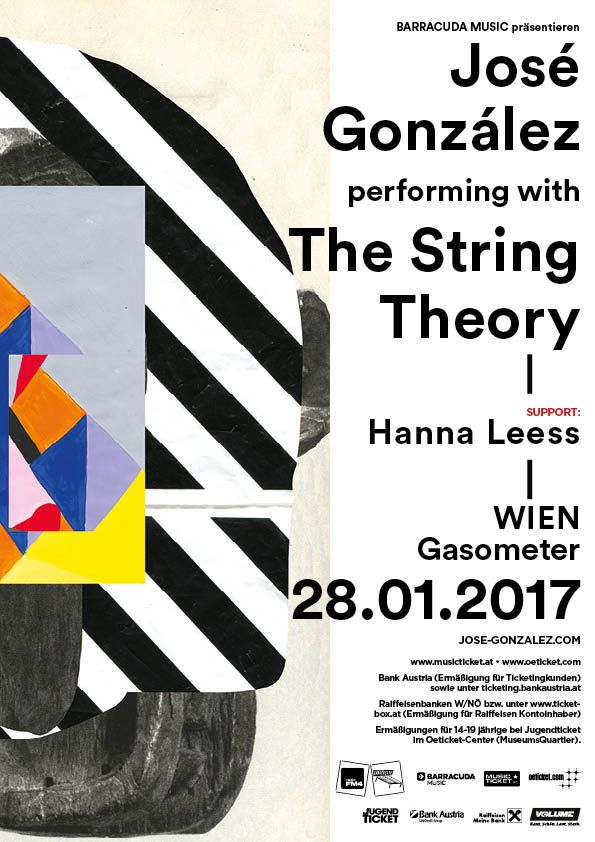 Sa, 28. Jan 2017
FM4 Indiekiste presents
JOSÉ GONZÁLEZ performing THE STRING THEORY, Support: HANNA LEESS
Support: HANNA LEESS
In January, 2017, José González and the maverick orchestra The String Theory embark on their second collaborative European tour since their thunderous 2011 success with sold-out shows all over the continent and raving reviews in The Independent, El País, Dagens Nyheter and Hamburger Abendblatt.
Since the release of his third solo album, "Vestiges & Claws" in February, 2015, José González has been busy touring and selling out venues in Europe, North America, South America, Australia & New Zealand; including The Opera House in Sydney (twice!), Walt Disney Concert Hall in Los Angeles (twice!), The Beacon Theatre in New York and The Cirkus in Stockholm.
Even if Vestiges & Claws in a way is a comeback album, González has been far from idle in the seven years since the release of his second solo record, In Our Nature (his debut "Veneer" was released in 2003 and has to date sold over a million copies).
Besides making two Junip albums and touring the world both solo and with the band, and with The String Theory in Europe in 2011, González has been involved in the soundtrack for the The Secret Life Of Walter Mitty, he has contributed a brilliant version of "This is How We Walk On The Moon" for the Red Hot + Arthur Russell charity compilation. His solo version of the Junip track "Far Away" won "Best Song in A Game" at the Spike Video Awards and Rolling Stone named Junip's "In Every Direction" a Top 50 single of 2010.
The String Theory is an artist collective, think tank, and experimental chamber orchestra based in Berlin and Gothenburg that since 2007 explores the outskirts of contemporary classical music and wild pop by means of collaborative workshops, studio recordings and live performances. The String Theory pursues a participatory approach, investigating new ways of interdisciplinary collaboration, incorporating visual art, developing new performance concepts, and facilitating international artist networking.
The conductor of The String Theory, musician and composer PC Nackt (*1975) began to compose ballet music as a teenager and later studied jazz guitar and composition at the Hochschule für Musik in Cologne. In 2002 he co-founded the electro-punk band Warren Suicide with his partner Cherie, as well as the recording studio Chez Cherie in Berlin's Neukölln district. This has led to cooperations with musicians and artists from different genres, such as Tocotronic, Dieter Meier/ Yello, Shara Worden/ My Brightest Diamond, Earl Harvin/ Tindersticks and many others. Other collaborations of PC Nackt include projects with the filmmaker Wim Wenders, the dancer Katja Wachter, the theatre directors Florian von Hermann and Sebastian Hartmann as well as the Berlin artist Hans Unstern. Since 2011 PC Nackt has been a co-producer and co-writer for the Berlin musician Sascha Ring aka Apparat, regularly going on tour with him.