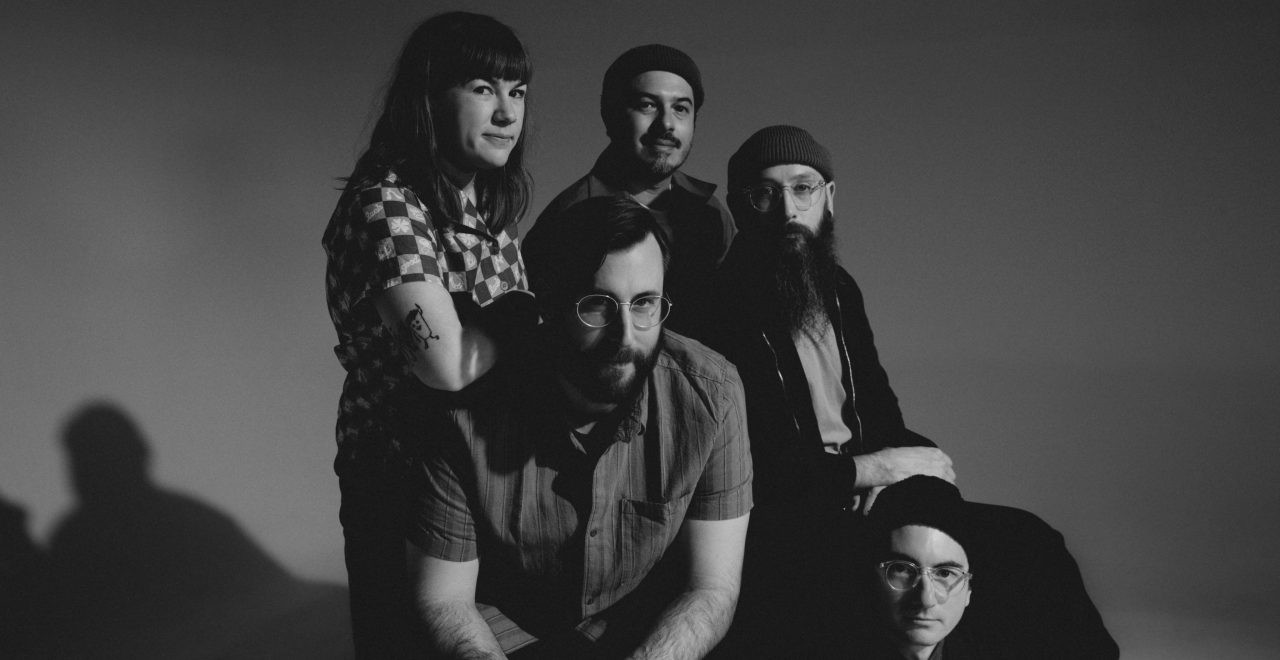 Di, 6. Feb 2024
Neue Location! Diese Show wurde verlegt
Aufgrund der großen Nachfrage wurde die Show vom 3Raum in die kleine Halle verlegt!
"I pitched this new album to the band as a group of love songs," laughs SPANISH LOVE SONGS singer/guitarist Dylan Slocum. "They immediately said, 'You're so full of shit.'"
Despite their name, the LA-formed indie-punk band aren't known for forays into the uplifting. Since 2013, the quintet have instead made hay on the backs of a string of beloved albums – 2015's Giant Sings The Blues, 2018's Schmaltz and 2020's Brave Faces Everyone – lauded by critics and fans alike for their richly personal, no-holds-barred lyricism awash in existential dead, hyper-personal cultural ruminations and attempts to answer life's big questions.
So when presented with NO JOY, their fourth full-length and second for Pure Noise Records, it's easy to understand the reaction of Slocum's bandmates – at first blush, its title alone another rain cloud in a sky of perpetual impending doom. But for all its foreshadowing, the LP actually marks, in its own unique way, the most joyous collection of material Spanish Love Songs have ever released.
"Every record is a reaction to the previous one," Slocum says. "I imagine people thinking, 'If they were pissed off before the pandemic, imagine how angry the songs are going to be now!' I can yell at the world for being awful, but that's not going to change anything when the people I love are dying."
It's these sorts of professions from Spanish Love Songs – whether they're rallying the broken healthcare system or simply trying to show up for those they love – that have endeared them to an ever-growing worldwide fanbase, bolstered by powerful live performances with bands like The Wonder Years and Rise Against and profiles in Kerrang and Alternative Press.
Brimming with new wave pastiche, fluttering synths, shimmering walls of chorus guitar, and four-on-the-floor rhythms, No Joy isn't an exclamation point follow-up to the emotional catharsis of the landmark Brave Faces Everyone as much as it is an exhale – the sound of Slocum, his wife and keyboardist Meredith Van Woert, guitarist Kyle McAulay, bassist Trevor Dietrich, and drummer Ruben Duarte finding peace in quieter moments and embracing the negative space.
"This is the closest we've ever gotten to figuring out how to translate what I hear in my head with more clarity," Slocum says.
Songs like first single "Haunted" carry the saltwater-kissed vignetting of an Asbury Park summer, awash in Boss-inspired nostalgia and percussive acoustic guitar that build to some of the band's biggest hooks yet – while not losing an ounce of Slocum's razor-sharp storytelling that Kerrang hailed as "bruised but big-hearted songs, filled with humanity yet also with subject matter hewn from life's darker edges."
"Meredith and I moved to Nashville pretty recently. I haven't lived in the suburbs since I was a teenager, and I forgot how quiet it is," Slocum says of "Haunted." "We started calling the creaks in the house our ghost. The ghost became a metaphor for everything you just carry around that no one can hear or see. You start to ask, 'Why do I feel like there's a fucking ghost around me everywhere I go?'"
Produced by the band and Collin Pastore (Lucy Dacus, Julien Baker, Illuminati Hotties) and mixed by Carlos de la Garza (Paramore, M83, Best Coast), the 12 songs on No Joy once again find Spanish Love Songs grappling with the messiness of what it means to be alive in the modern age – unsure of the answers themselves but confident that together, we can all come a little closer to the solutions.
Through Slocum's wryly macabre lyrics, they're songs of self-realization and self-survival, juxtaposing the feeling of being doomed to relive an endless cycle of heartache with the staggering realization of impermanence – of relationships, of their career ("Cleanup Crew"), of life at all ("Pendulum" and "Middle of Nine," written for the singer's late grandmother).
"It feels like my entire life has been spent on the cusp of something," the singer says of "Cleanup Crew," a mid-30s ode to life's could-have-beens. "I wanted to play baseball as a kid, and then I went to college and got hurt. I went to Hollywood to do film and TV and got pretty close. The band has gone beyond our wildest dreams, but at some point you get tired of chasing after your dreams. The song is me taking a step back and asking, 'Can we handle a small life? Could we give it up and move to the middle of nowhere and not worry about chasing some dream?' To me, that's death."
But despite their outward appearance, the songs on No Joy were ultimately born out of love, of gratitude and peace – songs for people both living and passed, words of encouragement to dull the pain to preserve memories of better days and persevere until that happiness returns, as hard as that might seem.
"I get deeply uncomfortable with happiness and earnestness," Slocum says. "I can be sad and angry, but sharing a true moment of joyous appreciation is uncomfortable for me even when it's seemingly right in front of me. You almost have to learn to say 'thank you.'"
If Brave Faces Everyone was about mustering up the strength to barely break even in an increasingly bleak world, No Joy is finding the internal peace required to stay in the black. As Slocum says, "it's an album about finding happiness in what you have and your current moment. It might be your best moment, or it might not, but you have to find joy in it."
He points to a lyric in album standout "Marvel," a song written as a gift for a friend but so critical to the album it found its way to the heart of the tracklist. "'Stay alive out of spite' – that's the line I kept returning to when writing this album. How do we reconcile the fact that we're not broken but we feel like it? What little joys can we take out of it? That's how I approach a lot of my life: laugh things off when I'm dying inside."
Partner & Sponsoren
Volume