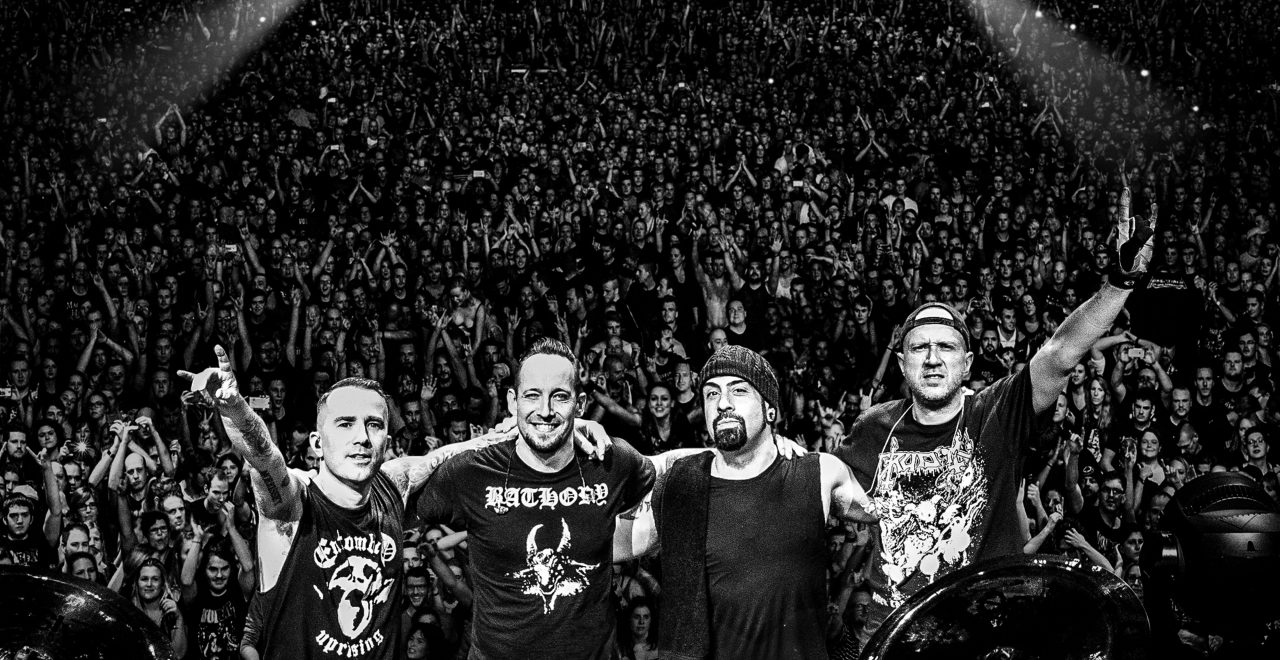 Zeitplan/Time Schedule:
Einlass/Doors: 16 Uhr/ 4 pm
Black Inhale: 17.30 Uhr/ 5.30 pm
Amorphis: 18.15 Uhr/ 6.15 pm
Flogging Molly: 19.10 Uhr/ 7.10 pm
VOLBEAT: 20.40 Uhr/ 8.40 pm
***
LIEBE BESUCHERINNEN DES VOLBEAT KONZERTS IN GRAZ!
Wir möchten ausdrücklich darauf hinweisen, dass folgende Gegenstände (aus Sicherheitsgründen) im Konzertbereich nicht erlaubt sind.
Große TASCHEN, große RUCKSÄCKE, große HANDTASCHEN und ähnliche Behältnisse
DOSEN, (PLASTIK)FLASCHEN
VIDEO- und TONAUFZEICHNUNGSGERÄTE
PROFESSIONELLES FOTOEQUPEMENT, KAMERAS, SELFIE STICKS
Bei der Show wird es zum Einsatz von STROBOSKOP LICHTEFFEKTEN und PYROTECHNIK kommen.
Herzlichen Dank für euer Verständnis!
Wir wünschen euch ein tolles Konzert!
***
Parkmöglichkeiten rund ums Gelände
Parkplatz Fröhlichgasse
Park&Ride Murpark
http://www.parken.graz.at/cms/beitrag/10176969/4203706
"A2Z Parking" – Liebenauer Tangente
http://www.parkenplus.at/garages/a2z_tower
Stadion Garage
Stadionplatz 1, 8041 Graz
***
Das Line Up für die Show des Jahres steht fest – wir freuen uns mit BLACK INHALE einen Top Opener mit an Bord zu haben.
Herzlich Willkommen, die Luft wird brennen!
Meet & Greet + Backstage Tour Upgrades für VOLBEAT könnt ihr HIER erstehen.
Achtung – Packages beinhalten KEINE Eintrittskarte!
NEU dabei als Special Guest: FLOGGING MOLLY!!!!
Auch AMORPHIS sind mit am Start!
Sie knacken einen Rekord nach dem anderen.
Das aktuelle Album "Seal The Deal & Let's Boogie" war 3 Wochen auf der 1 in der Austria Top 40 Albumcharts, 11 Wochen in den Top 10,mittlerweile seit 24 Wochen in den Albumcharts und hat bereits Platinstatus erreicht.
Das Teil war außerdem auch die Nummer 1 in den folgenden Ländern: Deutschland, Schweiz, Belgien, Schweden, Finnland, Dänemark.
Und jetzt kommen die Jungs für eine exklusive Open Air Show und das einzige Konzert in Österreich 2017 nach Graz!
Hier der offizielle Press Release:
Copenhagen, Denmark — Volbeat has revealed plans to stage the band's largest headline appearances to date. In August, 2017, the quartet will set out on this run with a vision of raising the bar to the next level, as they present a night to remember in these markets featuring a set list composed of repertoire they have never performed on stage, new material, and of course their hit tracks. Plans also include a range of surprise special guest appearances.
The band has already begun creative discussions aimed to deliver a unique show with production that is their most ambitious to date. The tour will begin in Hamburg on 23 August, 2017 with multiple outdoor events planned in Germany, alongside performances in Denmark, Sweden, Norway, The Netherlands, Switzerland, and Austria.
Singer Michael Poulsen shares, "We always aim to continue to grow with each tour planned. It is of paramount importance to us to raise the bar, and bring the fans something truly special in gratitude for the support they show Volbeat. Performing a set list that presents songs we have never performed live, alongside the hits and new creations, will make it special for the audience and ourselves. This is going to be a special run, one that all of us look forward to bringing to life."
Partner & Sponsoren
Kronen Zeitung

88,6

Life Radio

Antenne Steiermark

Megacard