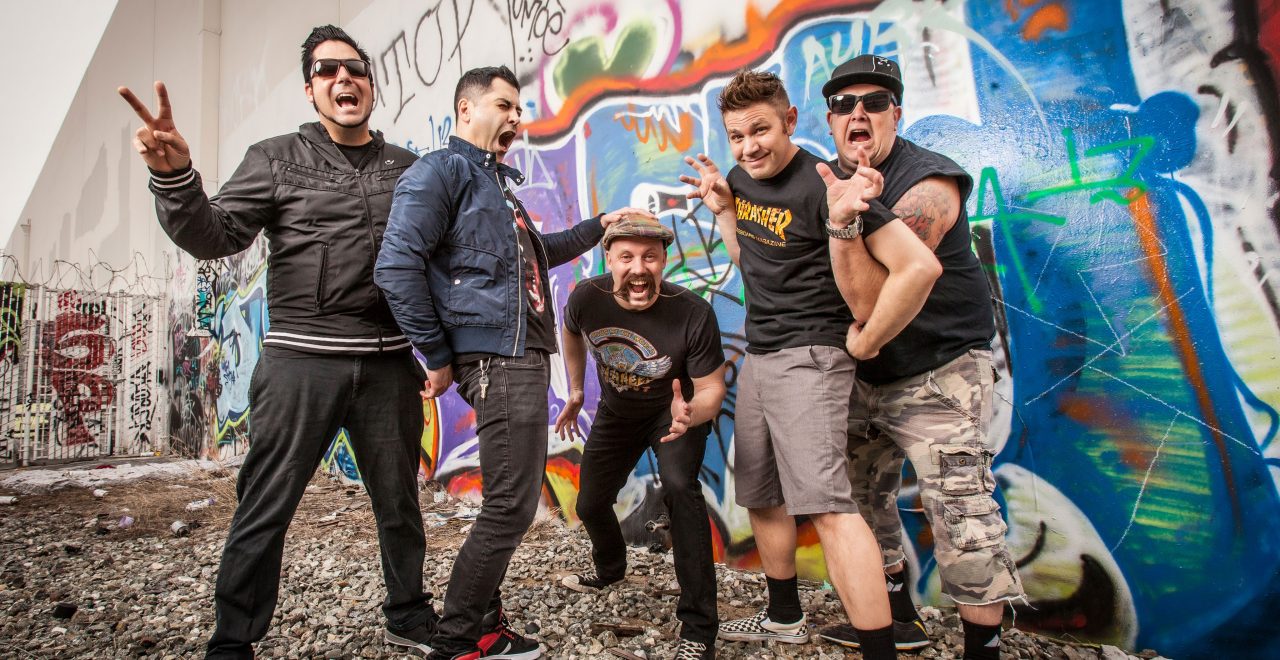 Do, 12. Nov 2015
ZEBRAHEAD
Many bands make an entrance into a particular scene, make a statement, and are suddenly yesterday's has-beens after an album or two. But after a dozen years, half a dozen albums, scores of countries, countless miles, a Grammy nomination for Best Metal Performance for their blistering cover of Metallica's "Enter Sandman and immeasurable faces rocked, it's not entirely surprising that Orange County-based rock act Zebrahead have been able to not only maintain a distinct relevancy to the core fan base that grew up with the act, it's also been able to consistently break new ground and appeal to newer generations of audiences.
"What's strange is that kids are getting younger and younger every time we tour," says Zebrahead vocalist Ali Tabatabaee. "I really don't know where they hear us or where they get our music from, but it truly is inspiring for us to keep writing and making music to see these kids showing up to the show and being such hardcore fans. I can't explain it. We're really fortunate."
So, what's the big secret to such great fortune? Credit the quintet's truly innovative and ingenious meld of punk, hip-hop and alternative rock, which crosses over musical bounds, not to mention songwriting that's infallibly infectious. When Zebrahead first broke ground, erupting into the Southern California rock scene in the mid-'90s, the act was instantly recognized as a pioneer of a hybridized genre that, to this day, has not only lasted, but continues to flourish both domestically and internationally. And with members Ali Tabatabaee, Greg Bergdorf (guitar), Matty Lewis (vocals/guitar), Ben Osmundson (bass) and Ed Udhus (drums) fully engaged in their craft, Zebrahead's continued drive has no chance of letting down anytime soon.
Enter Phoenix, the latest and most focused example of Zebrahead's genre-bending sound. It's the band's most comprehensive album to date, sporting 16 tracks, and, according to Tabatabaee is also the band's most well rounded collection and second release on Icon Music.
"We are very happy that we are with ICON, they have always been supportive of us and have allowed us to maintain our artistic integrity, they are very cool people who have shown that they truly believe in us and in our music." Says Tabatabaee
After completing over a year-and-a-half of constant touring on its previous release, 2006's Broadcast to the World, the act settled down in its Orange County rehearsal studio to begin writing sessions. Zebrahead eventually constructed Phoenix over the course of a few months, enlisting the efforts of renowned producers Howard Benson (Daughtry, My Chemical Romance, P.O.D.) and Cameron Webb (Social Distortion, Motorhead).
"We're old friends with Howard," says Tabatabaee of Benson, who produced the song "Hell Yeah." "He actually did our first two albums and he helped get us signed back in the day. He had some free time and he's part of the family so we were really excited to get to work with him again. We grabbed a song and recorded with him and that was a really cool experience, just to see him after ten years, and work with him again after everybody's grown up."
Webb is also a Zebrahead production veteran, having worked with the band on both 2003's MFZB and Broadcast to the World. "He's an Orange County guy and a good friend of ours," says Tabatabaee. "He's got a great ear to make the music really rock. We were fortunate to work with him as well. And luckily it wasn't an issue to work with both producers. And I think the album actually benefited from it."
The resulting release is Zebrahead's best blend of pop elements, tripped-out landscapes and foundation-laying heaviness. Phoenix also finds the act touching upon myriad issues amongst the track listing. "Mainly we tend to write about stuff that we're going through or people who are close to us are going through," says Tabatabaee. "A few of the songs are just about relationships that have gone bad or relationships that you realize aren't the best for you, but you stay in them anyways — like that's what 'Mental Health' is all about. And 'Sorry But Your Friends Are Hot' is a song about cheating."
However, Tabatabaee is quick to point that getting overly specific about the band's songwriting may dilute the experience of lyrical interpretation and listener engagement. "I remember when I was growing up, I used to like to listen to songs and try and kind of relate them to my own life, and try to see how I understood it," he says. "And I kind of try to shy away from saying, 'this song is exactly about this' because it kind of alienates people in some ways, because what if that's not what it meant to you when you were listening to it? That kind of blows that feeling that the song provides or gives you."
As for the song titles, they're also some of the best ideas the band's assembled, ranging from "Morse Code for Suckers" and "Two Wrongs Don't Make a Right but Three Rights Make a Left" to "Mike Dexter is a God, Mike Dexter is a Role Model, Mike Dexter is an A**hole."
On the contrary, Phoenix is a simple word, yet has a striking story behind it, about a band that has persevered through its career, even in periods of adversity. "We've gone through a lot these past few years and I think that this album really shines," says Tabatabaee. "I think it's the best album we've made so far, and to go through all the things we've gone through, and be able to make your best album, says a lot about the work ethic and learning how to not only be friends, but business partners and artists together, so it was kind of appropriate in that sense. Creating something out of what could've possibly have been the end of the band a few years ago, and making your best album kind of sums it up with that title."
The cover artwork — which seamlessly melds with the album's title — was designed by Shawn Harris of The Matches. In fact, according to Tabatabaee, the entire album process was a seamless affair. "For me, personally, this album was probably, since our first album, the easiest album to make in the way of being inspired to make it and having the songs turn out the way you wanted."
With the imminent release of Phoenix, Tabatabaee is able to reflect on the longevity of his band and its continued relevancy to audiences young and old. "Kids are appreciating the fact that we're sticking to our roots and really just trying to make good music. We'd like to thank the fans for allowing us to have such a long career. If it wasn't for them, we'd be flipping burgers somewhere. Fortunately, we get paid to do what we love, so we want to thank them a lot for that."
And as for Phoenix, Tabatabaee adds, "We can't wait for the rest of the world to listen to it and see what they think. It'll have something for everyone. And hopefully people will have open minds and will be able to accept it and appreciate it for what it is. We just didn't want to make the same album again, you know?"